Want to market yourself in Sweden?
Let "Med enkla ord" be your marketing partner in Sweden! Do you have business with a Nordic company or do you want to market your company and products on the Nordic market?
Med enkla ord AB can be your local PR- and media relations officer, enabling you to talk to the market the way the market wants to be talked to.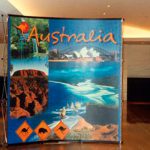 This is something we've already helped the Australian Tourist Commission, now Tourism  Australia, with when they were represented in the Scandinavian countries. Among other things we  produced newsletters and adjusted the international written press releases to the expressions and style used on our local markets.
We offer services such as web design (preferable WordPress), graphic design, strategic planning, media relations, news bureau, newsletters, web site articles, product marketing, layout services, copy writing, PR and marketing services in a lot of areas such as travel and leisure, health care and motor sports just to mention a few.

To put it simple
The Swedish expression "Med enkla ord" means "Put it simple" in English. And to put it simple – use "Med enkla ord" to achieve a better result when marketing your products!
For more information, please contact us. Send a message to: info@medenklaord.com